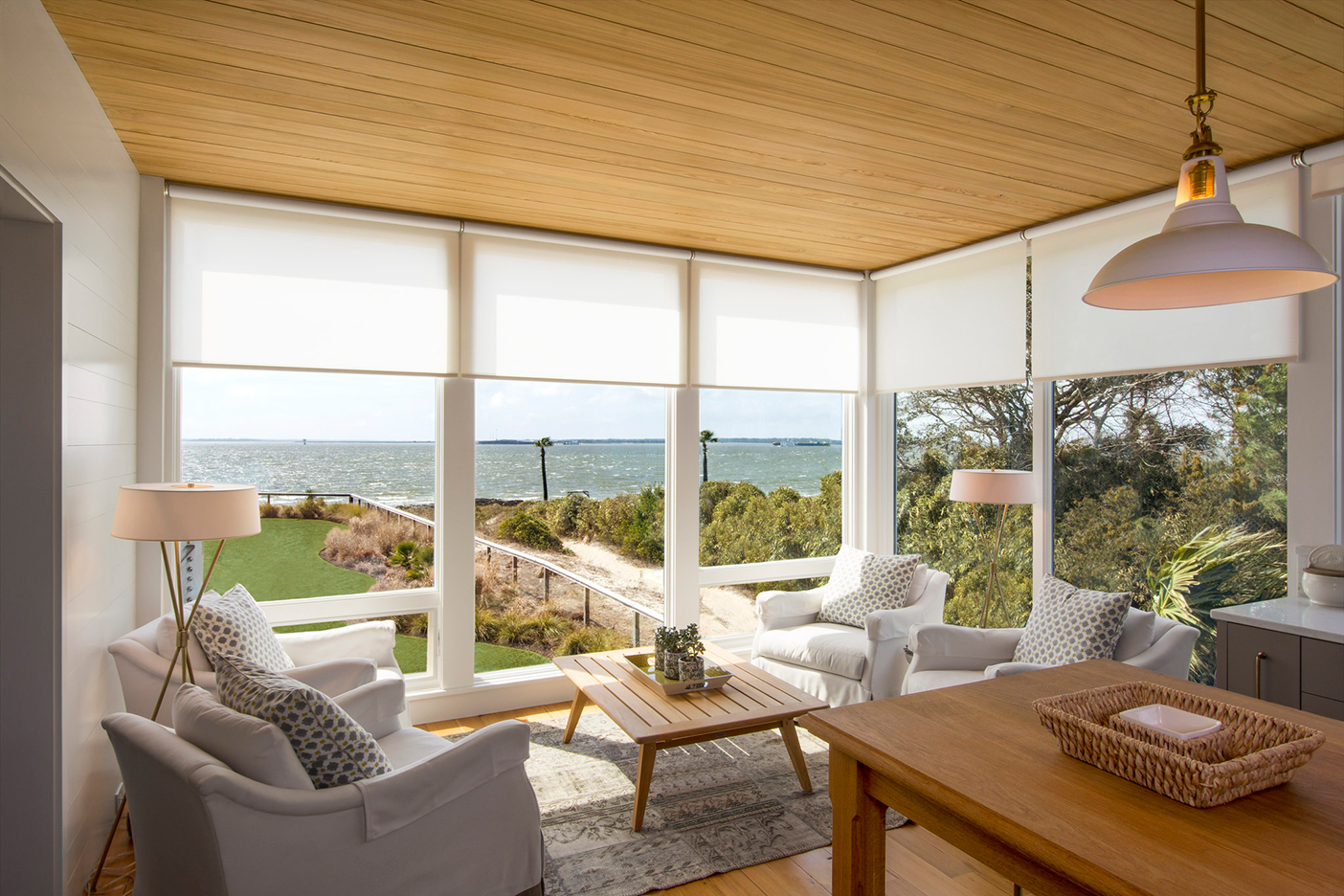 J Geiger's flagship R Series Shading System was designed to be seen. Unsightly wires and screws are concealed within the system, eliminating the need for valances, fascia, and ceiling pockets.
R Series can be configured to accommodate unique architectural elements. Diameter of the shade roll matches bracket profile, ensuring a seamless transition from shade to bracket. When shades are mounted in series, the matching profiles form a clean, continuous line.
Mounting Options:
Jamb Brackets (R1 and R2) can be mounted inside the window casing for a low-profile look. Each bracket is under 2.5" in diameter and suitable for 3" window jamb.

Mini Brackets (R1M and R2M) can be used for narrow jamb mount applications Each bracket is 2" wide and suitable for 2.5" jamb.

Floating Brackets (R3 and R4) can be mounted outside of the window casing (to wall or ceiling).

Coupler Brackets (R5) can be mounted between shade rolls to create a shade wall.

90° Brackets can be mounted into corners.
Hardware Specs:
Milled from solid aluminum in the United States
Color Options:
Aluminum (anodized clear)

Black (anodized black)

Custom Color (powder-coated)
Wired Motors
Wired motors are smart home compatible and can be seamlessly integrated with Savant, Crestron, Lutron and Control 4 systems.

For homes and businesses without control systems, wired motors can be linked to a keypad, remote, or app for smartphone or tablet control.
Battery Motors
Battery powered motors are rechargeable and can last over a year on a single charge.

Battery life depends on shade size and frequency of use.

Batteries remain in the shade tube while charging, eliminating the need to change batteries.

Battery motors can be remote, keypad, or voice* controlled.
*Hub required for voice control.
J Geiger shades are handcrafted in Charleston, SC. Each shade is tailored to unique project specifications, and fabric can be special ordered to suit your personal aesthetic and privacy preferences.
Schedule a Complimentary Consultation to Learn More